A Tale of Two Grandmothers – Love and Darkness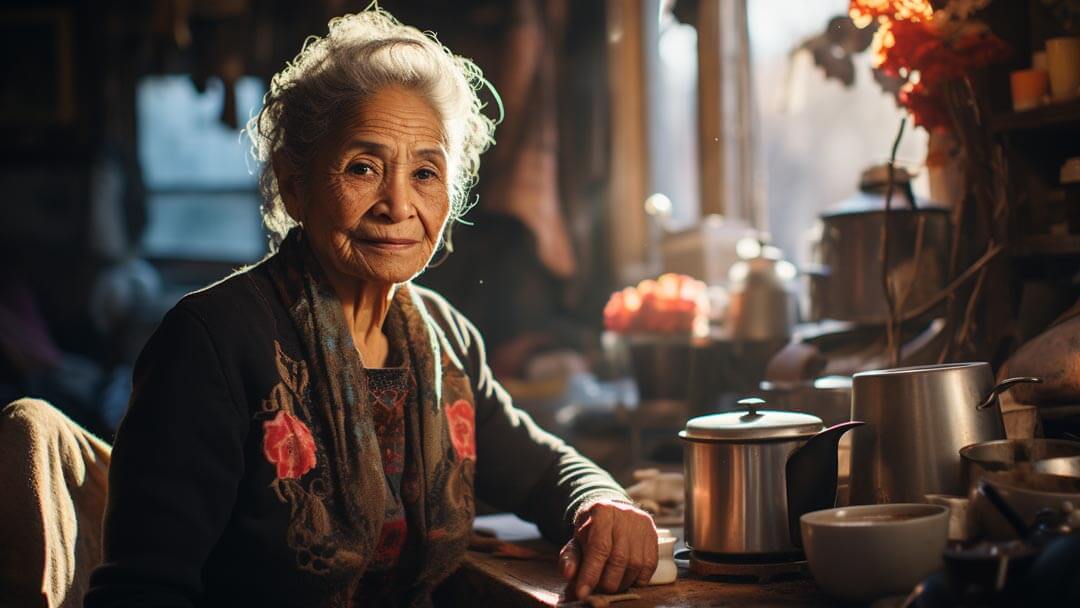 When I think back to my childhood, some of my fondest memories are tied to visits with my grandmother. Every weekend, my father would take me to her apartment in the Howard Projects on East New York Avenue in Brownsville, NYC. While the neighborhood held a reputation for violence during the late seventies and early eighties, my grandmother's home stood as a beacon of warmth and love. Her constant desire to serve others left an indelible mark on my heart, and her hospitality has inspired me in profound ways.
The Heartwarming Ritual of Love
As soon as I stepped into my grandmother's cozy abode, I was met with the aroma of freshly brewed coffee. She had an overwhelming desire to make coffee for anyone who walked through her door. Seated around her small, round kitchen table, she would ask in her endearing voice, "Quiere cafe?" which translated meant "Do you want coffee?" Her house dress fluttered as she scurried to prepare the pot and boiling water. Coffee was more than a beverage; it was a symbol of unity that transcended cultural boundaries.
Despite my personal aversion to coffee, her unwavering commitment to care always touched my heart. If I declined the coffee offer, she seamlessly transitioned to asking if I wanted something to eat. Without hesitation, she sliced Italian bread and skillfully assembled sandwiches. Her love was evident in her determination to ensure that no one left her home without a warm meal or a comforting drink. This profound display of care mirrored the depth of her love for her children and grandchildren.
A Tale of Contrasting Grandmothers
While my grandmother's love-filled kitchen created cherished memories, the Bible recounts a vastly different tale involving another grandmother. In 2 Kings 11, we encounter Athaliah, a woman driven by a sinister intent:
"When Athaliah the mother of Ahaziah saw that her son was dead, she proceeded to destroy the whole royal family." (2 Kings 11:1, NIV)
Athaliah's actions were driven by a thirst for power and control. Her son's death presented an opportunity for her to seize the throne of Judah. Her lineage and upbringing played a significant role in shaping her dark path. Raised by the wicked Jezebel, her actions were a reflection of her mother's malevolent influence.
Jezebel's animosity towards the God of Israel was evident in her actions, and her overwhelming desire to eliminate the prophet Elijah showcased her unrelenting determination. Jezebel, who was not an Israelite, married off her daughter, Athaliah, to the Southern Kingdom of Judah. Jezebel and Ahab's ambition was to unify the Northern Kingdom with the south, through strategic marriages. However, her lust for power ultimately led her down a treacherous path of destruction.
A Tale of Redemption and Protection
In stark contrast to Athaliah's malevolence, the story of Jehosheba and Joash exemplifies love, courage, and divine protection. Under the direction of her husband, Jehosheba, the sister of the fallen king Ahaziah, took her infant nephew Joash and hid him from the clutches of Athaliah's murderous rampage:
"But Jehosheba, the daughter of King Jehoram and sister of Ahaziah, took Joash son of Ahaziah and stole him away from among the royal princes, who were about to be murdered. She put him and his nurse in a bedroom to hide him from Athaliah; so he was not killed." (2 Kings 11:2, NIV)
Jehosheba's actions were rooted in her love for her family and her dedication to preserving God's promise to David (2 Samuel 7:16). Her husband, Jehoiada, a godly priest, played a crucial role in protecting the infant heir to the throne. This act of bravery and devotion set the stage for Joash's eventual rise to power. Athlaiah ruled for six years until Jehoiada was able to gather enough political and military allies to rightfully install his nephew, as king (2 Chronicles 23:1-11)
Under Jehoiada's guidance, Joash was crowned king, and Athaliah's reign of terror was brought to an end. As Joash was being blessed as king, Athaliah came to kill the boy and Jehoiada gave orders to kill her. After nearly seven years, the murderous grandmother was finally brought to justice and her evil plans came to an end. The culmination of their efforts demonstrated God's faithfulness in fulfilling His promises and ensuring justice prevails even in the face of adversity.
Overcoming Darkness with God's Promises
Athaliah's malevolent actions serve as a stark reminder that not all grandmothers embody the nurturing and loving spirit we often associate with them. Some individuals, despite their familial role, can inflict pain and suffering. If you've experienced the heartache of a loved one's betrayal or abuse, take solace in the fact that God sees beyond their actions. He remains steadfast in His promises and has a plan for your life.
God's Promises and Your Restoration
When faced with the shadows of betrayal, remember the words of God from Jeremiah 29:11:
"For I know the plans I have for you," declares the Lord, "plans to prosper you and not to harm you, plans to give you hope and a future." (Jeremiah 29:11, NIV)
No matter the circumstances, God's intentions for you are rooted in love and hope. He is your refuge in times of trouble and your strength when faced with adversity. Just as Jehosheba courageously protected Joash, God is your ever-present protector, ready to guide you toward healing and restoration.
Applying the Wisdom of Scripture to Your Life
As you navigate the challenges brought on by the actions of others, consider these practical steps rooted in the lessons of Jehosheba, Joash, and God's promises:
Seek Support: Just as Jehosheba sought refuge with her husband Jehoiada, lean on the support of trusted friends, family members, or mentors who can offer guidance and encouragement.
"Two are better than one because they have a good return for their labor. For if either of them falls, the one will lift up his companion. But woe to the one who falls when there is not another to lift him up." — Ecclesiastes 4:9-10 (NASB1995)
Choose Forgiveness: Embrace the power of forgiveness, freeing yourself from the burden of resentment. Remember that forgiveness is a gift you give yourself, allowing you to heal and move forward.
"Bearing with one another, and forgiving each other, whoever has a complaint against anyone; just as the Lord forgave you, so also should you." — Colossians 3:13 (NASB1995)
Focus on God's Promises: Immerse yourself in the comforting reassurance of Scripture. Meditate on passages that remind you of God's unwavering love, protection, and plans for your life.
"Do not fear, for I am with you; do not anxiously look about you, for I am your God. I will strengthen you, surely I will help you, surely I will uphold you with My righteous right hand." — Isaiah 41:10 (NASB1995)
Speak the Truth: Share your experiences and emotions with a counselor, therapist, or support group. Opening up about your journey can facilitate healing and provide a safe space for processing your feelings.
"Therefore, confess your sins to one another, and pray for one another so that you may be healed. The effective prayer of a righteous man can accomplish much." — James 5:16 (NASB1995)
Extend Compassion: Just as Jehosheba extended compassion to Joash, consider reaching out to others who may be facing similar challenges. Your empathy and understanding can make a significant impact.
"So, as those who have been chosen of God, holy and beloved, put on a heart of compassion, kindness, humility, gentleness and patience." — Colossians 3:12 (NASB1995)
Embracing God's Promise in the Face of Adversity
While the tale of Athaliah paints a grim picture, it serves as a testament to the power of God's promises and the resilience of the human spirit. Jehosheba's bravery and God's steadfastness ensured the triumph of light over darkness. In your own life, you have the opportunity to overcome challenges and find hope through God's unwavering love and promises.
Remember, you are not defined by the actions of others, but by the grace and love that God extends to you. Through seeking support, embracing forgiveness, focusing on God's promises, sharing your truth, and extending compassion, you can navigate the path toward healing and restoration.
In times of darkness, hold onto the promise of Jeremiah 29:11, allowing its words to guide you:
"For I know the plans I have for you," declares the Lord, "plans to prosper you and not to harm you, plans to give you hope and a future." (Jeremiah 29:11, NIV)
Embrace this promise, and let it be a beacon of hope, guiding you through life's challenges and leading you toward a future filled with purpose, joy, and God's unending love.